Specialty Spuds
Breakfast Potatoes are ALL YOU CAN EAT! Just ask for seconds!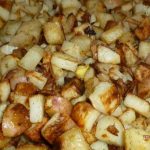 Breakfast Potatoes
$11.00
We dice red potatoes fresh daily, boil, cool, then sauté until golden brown in canola oil that's cholesterol free. Also available deep fried.

PLAIN: $11.00

Add any of the following for an additional $2.00 each.
Toppings Include:
Cheddar, Jack, Swiss, American, Pepper Jack, Feta

Mushrooms, Tomatoes, Onions, Bell Peppers, Jalapeños, Ortega Chiles, Broccoli, Green Onions, Garlic

Add Avocado $3
Baked Potatoes
Toppings Include: Pepper Jack cheese, Swiss cheese, American cheese, Feta cheese, Cheddar cheese, Jack cheese, Bell Peppers, Onions, Tomatoes, Sour Cream, Mushrooms, Broccoli, Ortegas, Jalapeños, Real Bacon Bits, Garlic, Green Onions, Sausage Gravy, Avocado. Extra Toppings $2.00 Each
Ranch Fries
$12.00
White potato wedges lightly seasoned then deep fried.
Potato Patties
$12.00
Shredded russets blended with milk, eggs,and natural seasoning made into patties & deep fried.
We don't accept credit cards, but an ATM is located inside the restaurant to serve your cash needs.